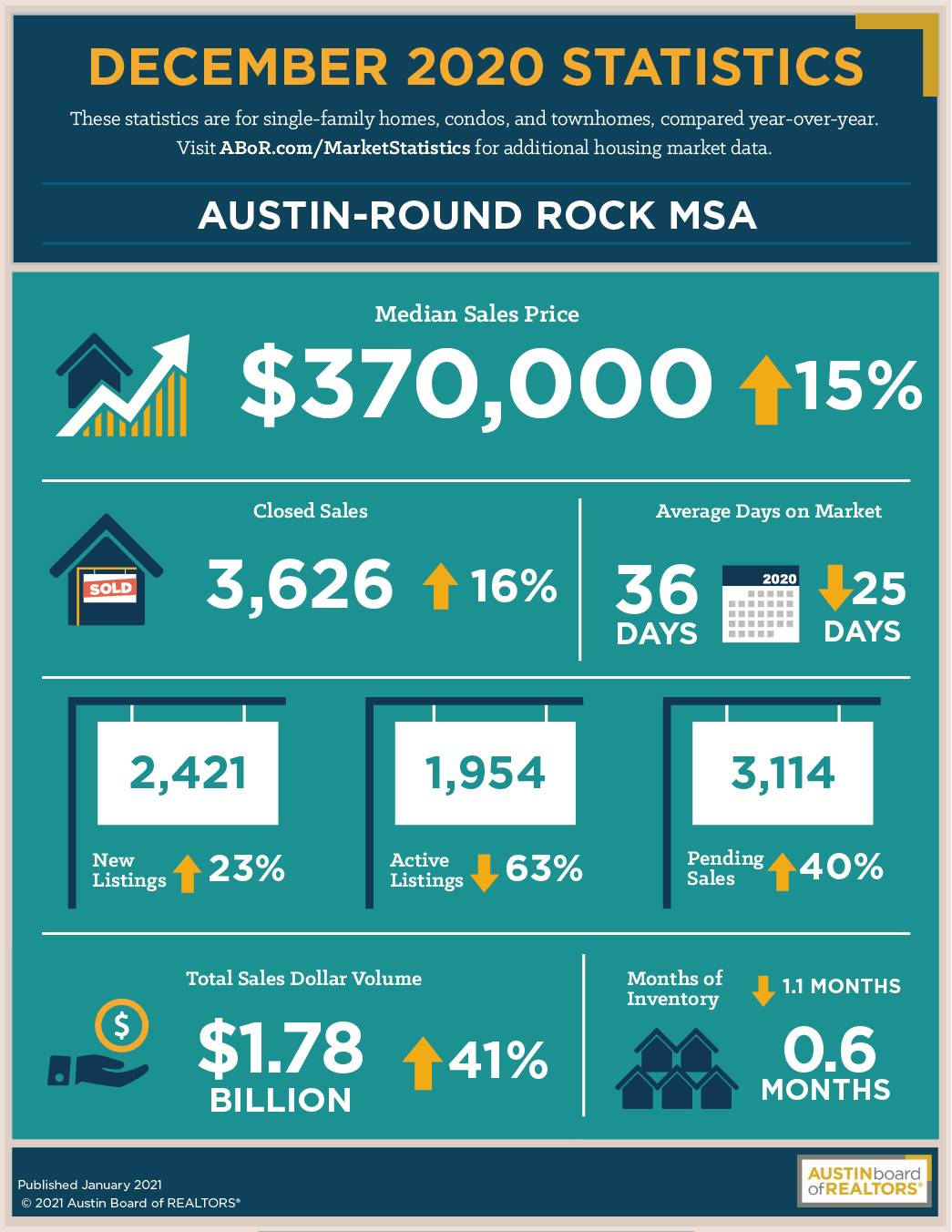 The Austin-Round Rock Metropolitan Statistical Area (MSA) closed 2020 by breaking records as housing demand reached
unprecedented levels.
According to the December 2020 and Year-End Central Texas Housing Market Report released by the Austin Board of REALTORS® (ABoR), a record-breaking 40,165 homes totaling $17,579,802,503 in sales volume were sold across the Austin area last year.  In December alone, residential home sales across the five-county Austin Metro area jumped 16.2% year over year, a record for the month of December, and the median price increased by 15.8% to $370,000, an all-time record for the MSA. Housing inventory, however, declined 1.1 months to a record-low 0.6 months of inventory for the entire MSA. Homes spent an average of 36 days on market, 25 fewer than December 2019. The pandemic only increased demand for all types of housing across the region, pushing inventory to near-zero levels and creating the strongest sellers' market we have ever seen. Dr. James Gaines, former chief economist for the Texas Real Estate Research Center, attributes Austin's record-high housing demand to a perfect storm of economic growth and increased consumer buying power. "The Austin-area real estate market is experiencing extraordinarily high demand fueled by years of high population growth and employment gains, lifestyle changes following the pandemic and record-low interest rates," Gaines said. "The pandemic fostered an environment where many families increased personal savings helping some transition from renting to ownership while others needed to 'move up' for more space while working from home. Gaines added that the outlook for the 2021 housing market was very good, noting that Austin's demand-driven market will continue to show strength and homes will keep selling quickly.
Measuring the entire year of 2020, the median sales price in the Austin-Round Rock MSA rose 9.2% to $344,000. During this year, new listings decreased 0.4% while active listings declined 34.2%. However, pending sales jumped 13.1%. Pending sales are now outpacing new listings, indicating that homes are selling faster than new ones can hit the market. The Central Texas housing market is incredibly competitive and moving at lightning speed.